For most school-leavers, going to college is the natural next step after the Leaving Cert. However, with the Dublin Institute of Technology (DIT) Cost of Living survey finding that the average cost for students living away from home is €11,766 per year, it's time to start questioning whether going to college is really the best option for you.
The Insurance Practitioner Apprenticeship is a new programme that allows participants to study for a level 8 honours degree while earning a full-time salary, providing all of the academic benefits of going to college, without the high costs.
However, third level education is about more than academics, so here we look at how the Insurance Practitioner Apprenticeship can measure up against a traditional college experience.
1. Cost
College
The results of DIT's latest cost of living survey show that the average cost of going to college for students living away from home are as follows: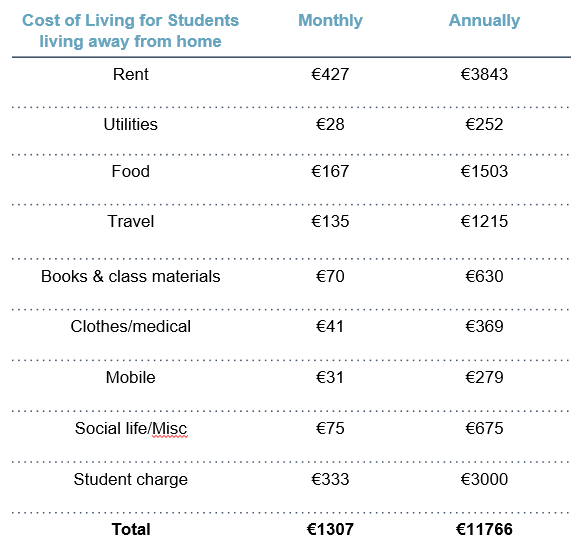 Apprenticeship
The apprenticeship is a clear winner when it comes to cost.
Apprentices receive a reduced student charge for their degree, at €600 per year instead of €3,000.
Books and class materials (listed at €630 per annum on the cost of living survey) are all covered as part of the apprenticeship.
You will also earn a salary that is commensurate with the entry level salary – which means you get to skip that 'cereal for dinner' phase and have the funds to really enjoy student life!
2. Qualifications
College
Anyone who has been through the CAO process knows there is a huge variety of courses and qualifications on offer at third level. Some school leavers know exactly which route they want to go down, while others can take more general Arts, Business or Science degrees to keep their options open.
Some courses also offer elective modules to allow you to broaden your horizons and learn about areas completely outside of the subject you are studying.
Apprenticeship
Graduates of the Insurance Practitioner Apprenticeship will earn three separate qualifications – two professional 'designations' that enable them to work in any area of general insurance and one BA honours degree.
BA (Hons) in Insurance Practice
These qualifications cover a wide range of subjects, from technical insurance knowledge to wider business modules including data analytics, marketing and law. Apprentices also receive training in soft skills such as negotiation, communication and critical thinking.
3. Work experience
College
Some college courses may provide work experience options, however many do not. Most students need to resort to part-time or weekend work to support themselves financially and add some experience to their CVs.
Many students also undertake summer internships to ensure they have enough relevant experience to secure a job after college.
Apprenticeship
One of the major advantages of doing an apprenticeship is that you are gaining valuable experience throughout the course of your study. At the end of the programme, you'll not only have three qualifications under your belt, you'll also have three years of work experience over the other graduates leaving college.
The Insurance Practitioner Apprenticeship allows you to either specialise in one area of the industry or get experience across a range of areas, so you will be extremely employable once you graduate. And you might even get the opportunity to stay on in your role after you complete your apprenticeship.
4. Social life
College
There's no denying that the social side of college is a key attraction for many. Universities and Institutes of Technology give students access to a range of clubs and societies that allow them build their network and attend events like Student Balls or class parties.
Apprenticeship
Having a full time job while studying towards a degree will naturally mean you'll have less time for socialising. However, insurance is a sociable industry that allows you to build up a network of colleagues and friends, particularly when you're on the apprenticeship programme.
You will be divided up into groups with whom you'll complete your online lectures every week. In addition, you will have a face to face group session with your fellow apprentices every semester in Dublin.
You will also become a member of a Local Institute close to where you work, who regularly host social events like summer barbecues, sports events and Christmas parties. So don't think that doing an apprenticeship means giving up your social life completely. And, since you'll be earning a salary, you'll have the funds to really make the most of it.
Want to become an apprentice and earn a level 8 degree while you work? There are still places available for the 2017 programme, beginning in September, so register your interest and get your application in →